Have you ever wondered who used to live in your house? Have you gone further and looked up the people who used to live there? Were you curious about what their lives were like and how the city looked when they lived on your street? We wondered all of these things about No. 25 so we decided to do some research on the house, and its former inhabitants, to get to know as much of the history as we could.
Stepping back in time
In a handy piece of serendipity, we were fortunate to have a guest in our sister restaurant, Suesey Street, who used to live in No. 25 back when it was still a residential home. She was kind enough to share her memories with us, to come back and visit the house telling us what each room had been used for and send us a letter with some of her clearest memories of her time at No. 25.
Discovering the Watson family
With first-hand knowledge from our guest, and a visit to the Census website from the National Archives to see who lived here in 1901 and 1911, we were able to start putting together a picture of life at No. 25 and the people who lived here. We discovered a family, the Watsons, who had lived in the house from its first days in 1843 right up to 1973.
Before we took over the house in 2003 it spent time as part of Bank of Ireland who looked after it beautifully and retain its Georgian grandeur.
History and hospitality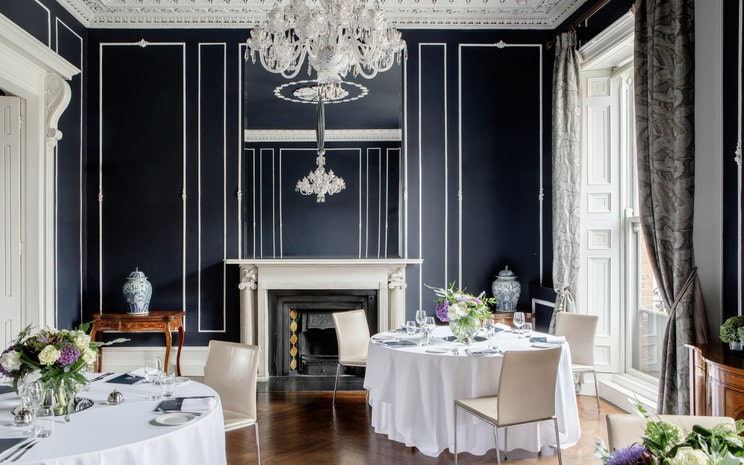 No. 25 Fitzwilliam Place had long been a house known for its warmth and hospitality, dating all the way back to the mid 1840s. From its Georgian beginnings right up to our own time and its use as one of Dublin's premier private use event spaces No. 25 is woven deeply into the fabric of Dublin and its history. In the end, our research turned up so many interesting facts that we were able to write a book about the 178 year history of the house.
Sharing the history of the house
We launched the book towards the end of 2019 and to celebrate we turned the house back in time, brought in actors to perform as some of the former residents, and invited a number of guests to experience the finest in Georgian inspired hospitality. You can take a look at a short video from the night below:
Our goal in researching and writing our book was to uncover and preserve the legacies of No. 25's inhabitants and to share their stories with all who continue to enjoy the house. We hope that we've managed to do that in a way that the original residents of the house would appreciate.
If you're interested in learning more about the history of No. 25 you can download a complimentary copy of the book here. We hope you enjoy reading it as much as we enjoyed writing it!
If you're thinking about booking No. 25 for your next event drop our events team a line at info@25fitzwilliamplace.ie. They'll be happy to answer all of your questions or arrange a tour of the house. You can also take a virtual look around our venue here.
Follow No. 25 Fitzwilliam Place on Twitter, Instagram& Facebook for regular updates.