The team here at No. 25 Fitzwilliam Place were delighted to host a virtual conversation with Ciara Crossan, founder of WeddingDates.ie, for the second instalment of our series of webinars on Tuesday 30th March.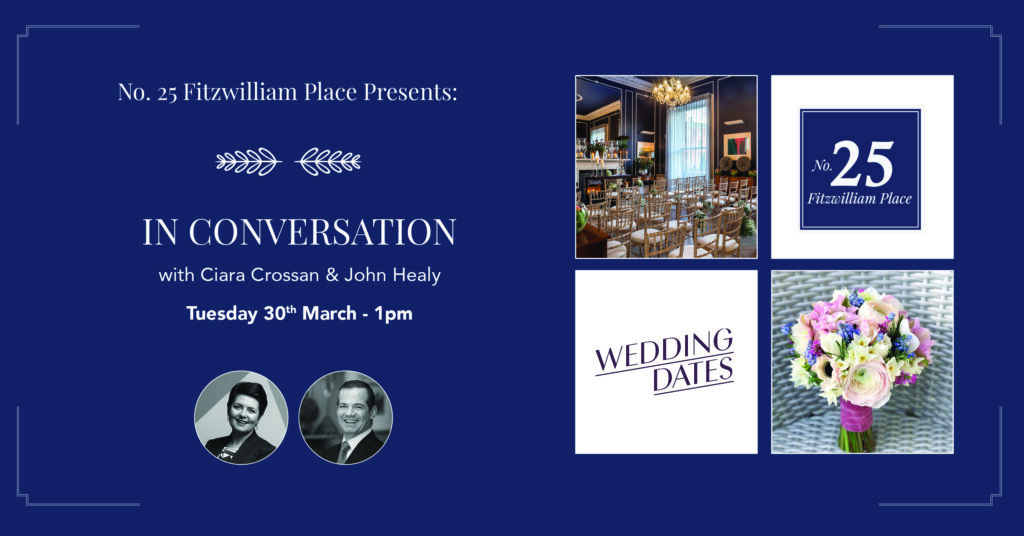 Ciara is a tech entrepreneur who combined a degree in Business Information Systems and her experience in family run hotels and hospitality to found Wedding Dates 13 years ago. We know that lots of couples have used Wedding Dates to find their perfect venues and suppliers over the years, so we were excited to learn more about Ciara and her insights on wedding hospitality, and how certain digital services have changed the game. As the winners of the Top Rated Wedding Venue in Dublin in the 2020 Wedding Dates awards, we were especially excited to shine a light on the great work that Ciara and her team have been doing over the past year.
Hospitality tales and how to use Wedding Dates
Our General Manager, John Healy and Senior Marketing Executive, Mary Molloy hosted a lunchtime conversation with Ciara about all things hospitality, digital wedding trends, how things are going in the business and Ciara's experience overall as a wedding industry professional. Ciara also chatted about how her booking platform matches couples searching for the perfect wedding venue with hotels and other venue options based on their specific needs.
John has been the GM at Suesey Street and No. 25 Fitzwilliam Place since 2015 and has a long history in the hospitality industry. He has worked in some of the finest establishments in London and Dublin, so this event was a lively discussion between some of Ireland's top events professionals. If you missed it you can watch the full chat here:
We're so happy that we got to catch up with Ciara and share some stories from the weddings and events industry with you. We hope you enjoy the conversation as much as we did! We'll be hosting more virtual events over the coming months, you can keep an eye on our social media accounts for updates and we'll let you know when to put the next ones in your calendars.
If you're planning a wedding and you'd like to know about hosting it here at No. 25, we're happy to have a chat with you about your plans. Drop us a line at info@25fitzwilliamplace.ie or give us a call on 01 669 4646. We can take you through your options and arrange a viewing.
Follow No. 25 Fitzwilliam Place on Twitter, Instagram & Facebook for regular updates.