One of our favourite things about hosting weddings is getting to meet so many couples and share their special days with them. From our initial meetings right up to the day itself we love to see the progression of their plans and how everything comes together to create an experience unique to them. We especially love seeing and sharing images from their wedding days, with their permission of course. We know that the photographs and virtual tours couples see on our website and social media help them to picture what their day could look like here. With that in mind, we wanted to create some new images to showcase the variety of wedding and civil ceremonies you can host with us, so we put together a full day wedding photoshoot to capture the essence of romance here at No. 25.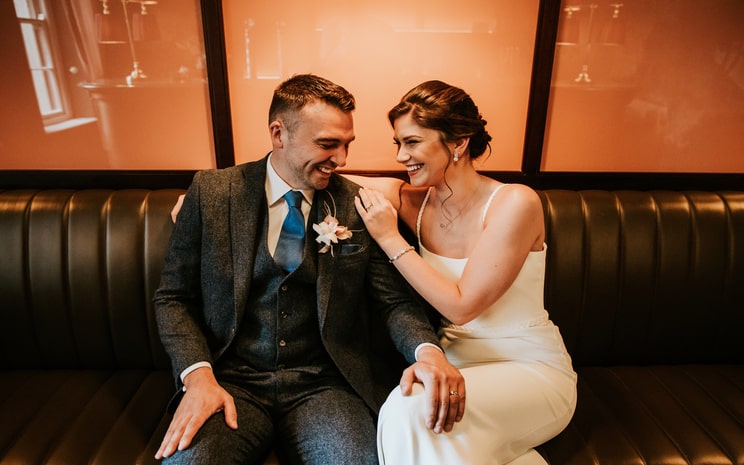 Wedding Photoshoot Photographer
When we were planning the shoot and talking about the kinds of couples who get married at No. 25, we knew we wanted to showcase as many types of couples as we could. We set ourselves the challenge of shooting three couples rather than just one to give a bigger picture of what's possible here. We knew it was going to take a special photographer to be able to pull off what was effectively three full wedding shoots in one day.
That's where Sasson Haviv comes in. Sasson has shot a lot of weddings here at No. 25; he's even won awards for photographs taken at one or two of them, so we did not doubt that he'd be able to create wonderful photographs for us. We've worked with him on an engagement shoot here at the house a couple of years ago and he took one of our favourite images that day, one that we still love now! We really respect the creativity he brings to every project, so we were thrilled when he agreed to be our photographer for the day.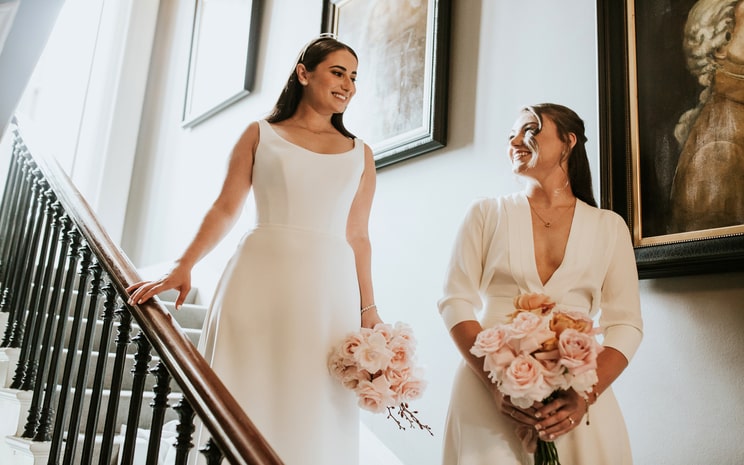 We're not sure he fully knew what he was getting himself into, but he definitely rose to the challenge. You'll be seeing lots more of his beautiful work around our site and socials so keep your eyes peeled for his shots. Another bonus of having Sasson as our photographer for the day was his own history with the building. Because he's been here for weddings before he had a head start on picking the best spots for photographs and we think he's done an incredible job of capturing the feel of a real wedding.
Wedding Styling with the Irish Wedding Blog
Planning a photoshoot involving three couples in one day is no mean feat and one we definitely needed some outside help with. As we looked into what would be required it became obvious that we would need to add some extra wedding expertise, so we got in touch with one of our favourite wedding professionals for a little advice. We knew Ciara Crossan from Wedding Dates would be able to point us in the direction of an excellent wedding stylist and she did not disappoint. Ciara recommended Sara from the Irish Wedding Blog, we had a call with her, and a dream match was made.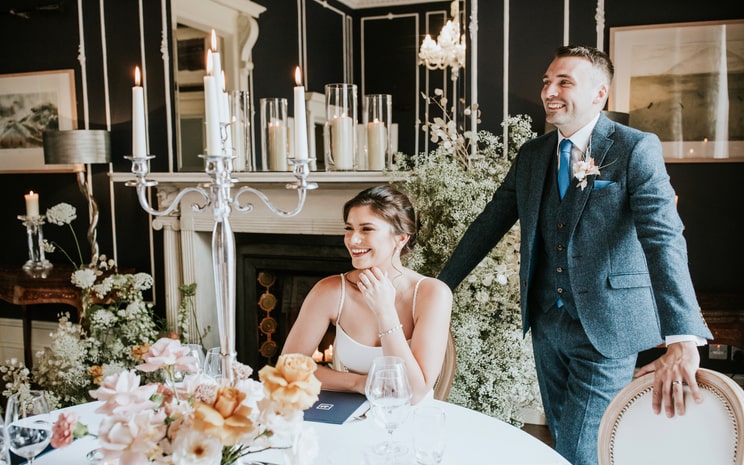 Sara understood what we wanted from the wedding shoot from the start and was on hand with advice and her wealth of experience to help us make sure we got the images we wanted. From sourcing our models from Catwalk Model Agency to organising bridal wear and suits, to picking out rings, wedding jewellery, cufflinks, and ties, to finding the most amazing hair and makeup duo in Tara and Teresa from Bridal Team Ireland, we are so lucky to have worked with her. The day would have been very different if we hadn't had Sara on hand as part of the team!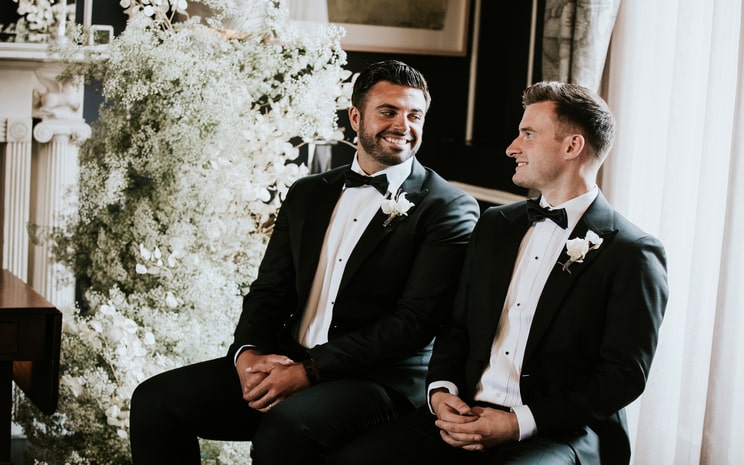 Contemporary Classics Merge With Georgian Era Elegance
As important as the models and photographer were, one of the main objectives of the wedding photoshoot was to show off No. 25 as a beautiful, contemporary wedding venue. One of our favourite comments of the day came from Bridal Team Ireland; the ladies had never been to the house before and compared it to a set from Bridgerton. We'll happily take that compliment!
Our house may not go back quite as far as the Regency era but we're not too far behind with our Georgian elegance. While the house looks impressive on its own, adding flowers helped to create the extra touch of romance that we wanted. Our flowers on the day were from the gorgeous The Wild Bunch. They brought their best blooms and created beautiful bridal bouquets, colourful centrepieces for the tables and an amazing floral arrangement for our ceremony shots.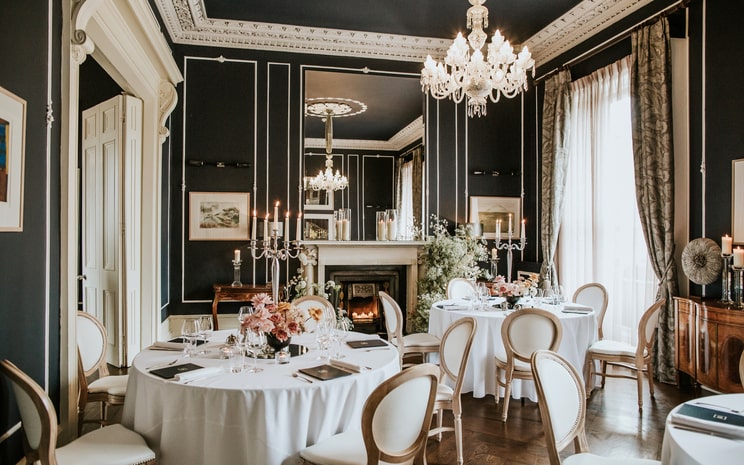 Stay Tuned For More Photographs
We loved every moment of the planning and the shoot day itself and we're looking forward to sharing lots of beautiful images with you. A special thank you goes out to all of the amazing suppliers we worked with, we can wholeheartedly recommend every one of them.
Thank You to Our Suppliers
Stylist – Sara at the Irish Wedding Blog
Bridal dresses – Kadee Bride
Suits – Louis Copeland, Tangos Suit Hire
Rings – Commins and Co.
Wedding Jewellery – Stash.ie
Hair accessories – ByKyna
Models – Catwalk Model Agency
Hair and Makeup – Bridal Team Ireland
Flowers – The Wild Bunch
Photographer – Sasson Haviv
Reggie the French bulldog – shared by his very kind and generous family, Kelly and her sister Kim.
We'd be remiss if we didn't give a shoutout to the team here too. Our operations and events teams worked hard to make sure our house was looking its best before the wedding photoshoot and throughout the day. Our wedding and events executive Kelly was kind enough to share the gorgeous Reggie with us for some fabulous photographs. He was definitely a scene-stealer and everyone fell in love with him!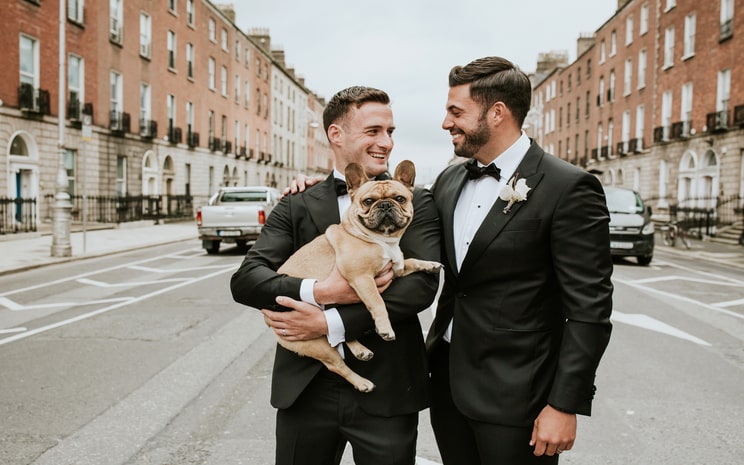 We hope the photographs we've shared so far have given you a taste of what you might expect from a wedding or civil ceremony here at No. 25. If you've been inspired and have any questions about hosting your own event with us our team are always happy to help. Drop us a line at info@25fitzwilliamplace.ie with your query and we'll get back to you with everything you need to know.